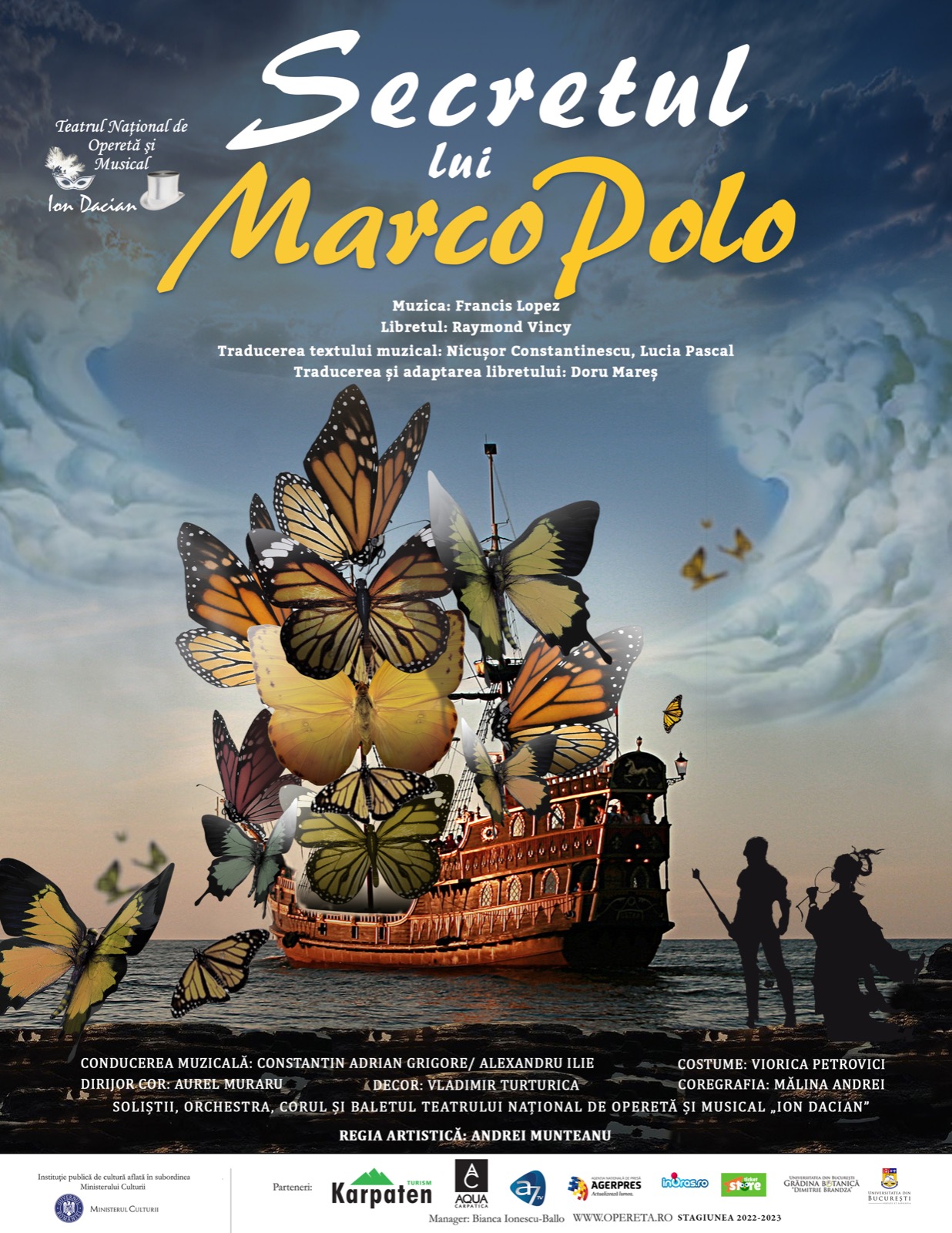 Secretul lui Marco Polo
noiembrie 9, 2022
Spectacol aniversar Dance Planet 10 ani
noiembrie 17, 2022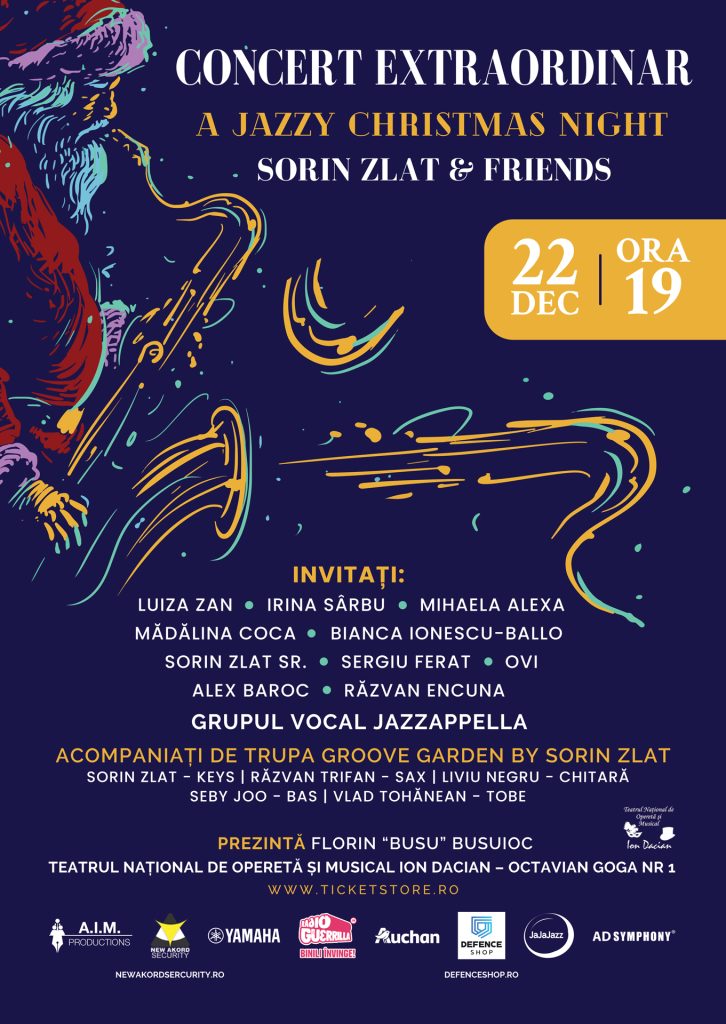 Concert Extraordinar de Crăciun
            A Jazzy Christmas Night – Sorin Zlat & Friends
     22 Decembrie, ora 19.00, Teatrul Național de Operetă și Musical "Ion Dacian"
Concertul "A Jazzy Christmas" – Sorin Zlat & Friends va cuprinde un program dedicat Crăciunului cu o selecție dintre cele mai îndrăgite colinde din repertoriul național și internațional care își propune să aducă magia sărbătorilor de iarnă în sufletele spectatorilor pe ritmuri și acorduri de jazz, pop, soul, funk și gospel orchestrate într-o manieră originală de pianistul și compozitorul Sorin Zlat.
Muzicienii care vor lua parte la această călătorie magică sunt nume importante care excelează pe scena muzicală de jazz, pop si clasic: Luiza Zan, Irina Sârbu, Mihaela Alexa, Mădălina Coca, Bianca Ionescu-Ballo, Sorin Zlat Sr., Sergiu Ferat, Ovi, Alex Baroc, Răzvan Encuna, Grupul Vocal Jazzapella, Band-ul Grove Garden by Sorin Zlat: Liviu Negru, Răzvan Trifan, Seby Joo, Vlad Tohănean.
Programul concertului va cuprinde colinde si cântece de Crăciun din care amintim: O, ce veste minunată, Moș Crăciun, Winter Wonderland, White Christmas, Silent Night, The Christmas Song, Rudolph the Red-Nosed Reindeer și multe altele.
"Deschidem seria concertelor Jazzynights prin sărbătoarea colindelor de Crăciun!
Îmi doresc ca aceste concerte să aducă un plus capitalei prin promovarea artiștilor și muzicii de calitate."
…Spune Sorin Zlat, producătorul și directorul muzical al acestui concert care deține în palmaresul său peste 20 de premii naționale și internaționale și este unul dintre cei mai reprezentativi pianiști de jazz ai noii generații de artiști români, care în ultimii ani a primit distincții precum Marele Premiu în cadrul Competiției de Jazz din Jacksonville Florida (2015), Marele Premiu în cadrul Competiției de Jazz din Monaco (2013), Premiul pentru "Cel Mai Bun Muzician de Jazz", Titlul de Yamaha Artist etc.
Pentru că fiecare poveste trebuie să aibă și un povestitor, suntem bucuroși să anunțăm că seara va fi găzduită de către Florin "Busu" Busuioc, unul dintre cei mai iubiti actori și prezentatori de televiziune. Despre foarte puțini oameni se poate spune "nu mai are nevoie de nicio prezentare".
Vă așteptăm cu drag!