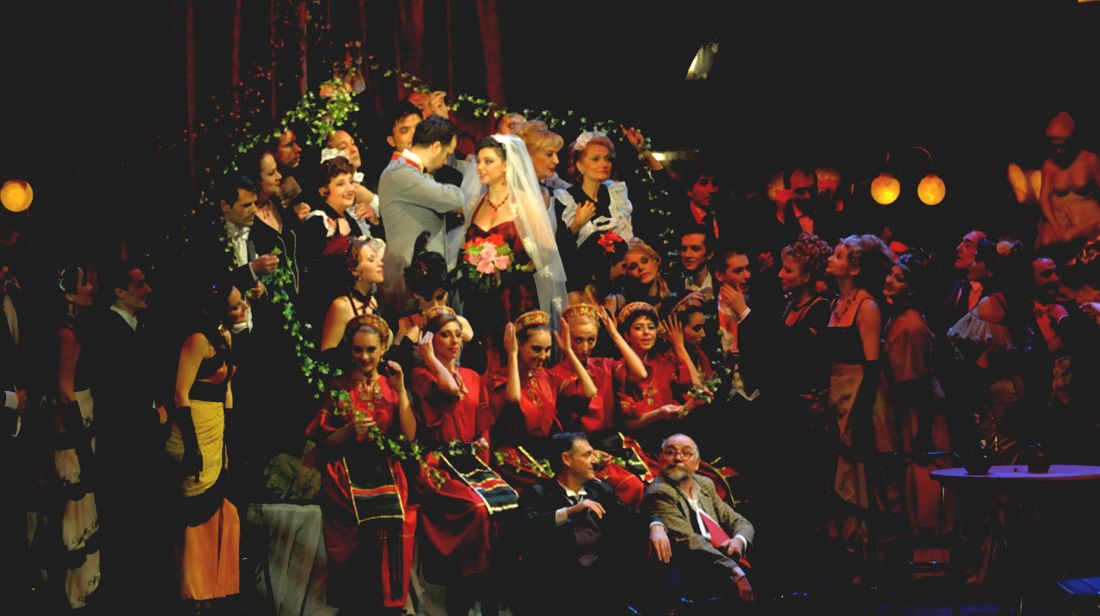 Silvia
April 15, 2021
Anais
April 15, 2021
Premiere Date: June 6th, 2008
Hanna Glavary: Silvia Șohterus
Danilo Danilovici: Stefan Popov
Camille de Rosillon: Florin Budnaru
Valenciene: Gabriela Daha-Bălășoiu/Amelia Antoniu
Sylvienne: Amelia Antoniu/Raluca Ciocă/ Carmen Angheloiu
Cascada: Valentino Tiron-Micșunescu
St. Briosche: Cătălin Petrescu
Olga: Mediana Vlad/Ana Maria Moldoveanu
Zeta Mirko: Bogdan Caragea
Praskovja: Oana Rusu
Mama Hannei: Eugenia Ilinca
Kromow: Orest Pîslariu-Ranghilof
Bogdanovich: Viorel Ciurdea
Prisil: Adrian Ștefan
Nyegus: Ernest Fazekas
With the participation of Orchestra, Chorus and Ballet of the National Theatre of Operetta and Musical "Ion Dacian".
Description
Directed by Attila Beres, the famous Merry Widow, which set the tone for a period known as the Silver Age of the genre, returned to the repertoire of the Bucharest theatre, being the first Romanian-Hungarian co-production in the "Open Operetta" program. Director Attila Beres states about this collaboration: "Speaking the same language, given the concern for the genre of operetta, for show and music, for the tradition that both Hungary and Romania have in common in this field both musically and theatrically, the proposal for a collaboration came, as if, by itself and I was glad that I can be part of this project, that together we have the opportunity to bring to the Romanian public one of the most beautiful Operettas of all times, Merry Widow".
The Merry Widow was the most famous Operetta of the 20th century and has remained just as appreciated to this day. It has been played in Vienna over 400 times, in Berlin as well; in London he met over 800 performances in the US reached a record number for an operetta title, triggering a real "Widowhood" (a brand that sold pirated products such as: song brochures, oversized operetta hats, shoes and cigarettes, a corset, even a cocktail with that name made of gin with sweet vermouth, bitter, ice and lemon juice).
The operetta even reached Buenos Aires where, at one point, it was performed simultaneously in five different languages, in five different theaters. The Merry Widow had her world premiere on December 25, 1905, at the Theater an der Wien. One year later, the George Grigoriu Lyric Company staged the work, which kept the poster of the Leonard as Danilo a few months after the Viennese Theater toured with this show in Romania, with Franz Lehár at the desk. Later, the Alhambra Company, led by Nicolae Vlădoianu, resumed the title, being a great success. In 1957 the State Theater staged The Merry Widow. It was the most famous Operetta of that period, launching at least three hits: "Vilja's Song", "You can find me at Maxim" and "Merry Widow's Waltz", transforming him Lehár in the legend.
Show Details:
Operetta in three acts by Franz Lehár
The libretto by Leo Stein & Viktor Léon
After the comedy "Embassy Attaché" by Henri Meilhac
Dramatization: Barbara Ari Nagy
Directed by: Béres Attila
Conductors: István Silló / Lucian Vlădescu
Scenography: Sándor Daróczy
Costumes: Anni Füzér
Choreography: Bodor Johanna
Chorus Master: Gabriel Popescu
Assistant director: Cătălin Petrescu